Best Lightweight Wheelchair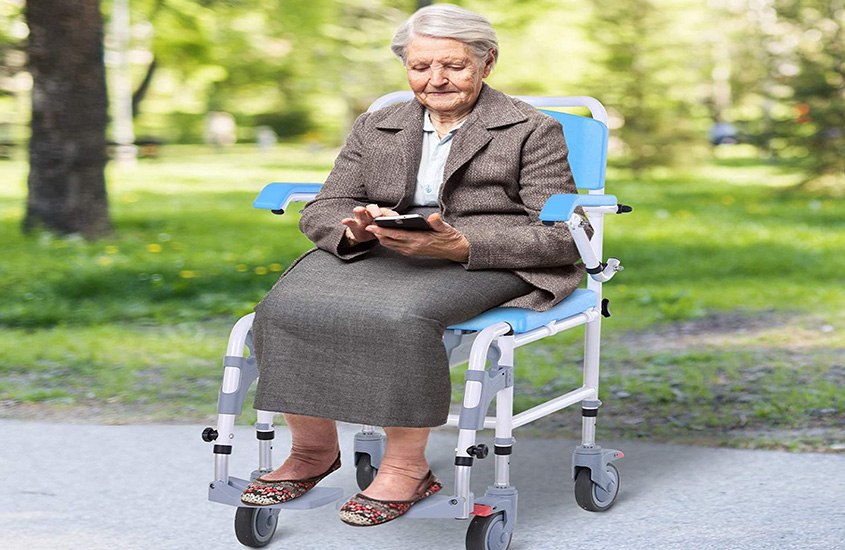 From research, we can assume that the most widely used piece of medical equipment used for treating disabled individuals is the wheelchair. It is probably the most used rehabilitative tool for long term patient care. It is safe, effective, and reliable. There are various kinds of wheelchairs in existence, and lightweight wheelchairs are among the best known to man. The basic idea behind a lightweight wheelchair is to combine the tested manual efficiency and mobility of a manual wheelchair with the portability and convenience that users desire when traveling.
Below is a list of three of the best lightweight wheelchair in the market.
Our Top 3 Products
1. Karman Healthcare Ultra Lightweight Transporting Recliner Wheelchair
This exotic wheelchair designed by Karman healthcare provides users with a unique feature that allows full reclination back into a lying position. As the name implies it is also a reclining wheelchair. This feature is unique because it is not often found in wheelchairs, even the reclining ones, and therefore provides customers with a huge increase in comfort while using it. This wheelchair effortlessly extends its angle of declination from 90 degrees backward to 160 degrees position.
The effective weight distribution around the chair's seating position prevents the formation of sores on a patient's rare when seating for an extended period of time. The chair has an aircraft-grade aluminum that allows it to maintain a weight of 33 pounds. It also has a compact foldable design that allows it to save space in your rooms or in your vehicles when traveling. The Karman wheelchair also comes with a range of sizes measured in 16, 18, 20, and 22 inches.
Each of these sized wheelchairs has its own weight limit. For the 16 and 18 inches wheelchair, the size limit is 250 pounds, for the 20 inches chair, the weight limit is 300 pounds and for the 22 inches chair, the weight limit is 350 pounds.
Size selection options and an efficient reclining system are just two of its awesome features. It also has a head pillow that is height adjustable, an adjustable toggle wheel lock, and a flame-resistant nylon upholstery.
Pros
Apart from its lightweight, what most customers really love about this wheelchair is its ability to recline. The ability to recline really improves users' comfort and greatly reduces the probability of a skin breakdown.
The wheelchair can practically be used by patients of all sizes because of its 4 size option that can tolerate different weights of individuals.
Cons
Compared to other lightweight wheelchairs, the chair comes at a very high price, probably because of its reclination features.
The removable arm and leg rest can sometimes prove difficult to detach and reattach.
Opinion
Aside from the obvious drawbacks of this wheelchair, the lightweight and reclination features should be more than enough to compensate for its shortcomings, despite its high price. Buying this wheelchair only makes movement much easier and comfortable.
2. Karman Healthcare's Wheelchair
Here is another Karman healthcare product making its way to one of the best lightweight wheelchairs in the market. It has an extensive ergonomic and adjustable feature in nearly every area. First off, the chair's armrest is adjustable in height and is capable of backflipping, the leg rests have the ability to swing wide or elevate, and lastly, the frame is ergonomically designed to completely reduce sore formation in high-pressure areas after seating for a long time.
Its fabric is breathable and bacteria-resistant, flawlessly designed to improve airflow and curb sweating. Customers that spend most of their time on a wheelchair are encouraged to go for this wheelchair simply because of its unique supportive design. The chair is widely available in two sizes packages, the 16 inch and the 18-inch width sizes. The additional seat belt option and a memory foam seat and back cushion further increases customers' safety and comfort respectively. It also comes with a ref orba silver frame, thereby adding style to the wheelchair.
Pros
Because of its ergonomic features, the chair is widely known for its comfort and safety especially when seating on it for an extended period of time.
Its additional and optional features give patients the privilege to design their wheelchair according to their personality and taste.
Cons
It is just as expensive as the first Karman healthcare wheelchair mentioned in this article.
It has a limited weight to the size option, and so not everybody can effectively use this wheelchair.
Opinion
The chair is expensive and does not support a wide range of people but honestly, there is no better wheelchair out there that has this much ergonomic and adjustable benefits. Not to mention it is compact and very much comfortable because of its seat and back cushion and has a seat belt attached to it for your safety. Having a wheelchair like this will definitely give you good value for your money.
3. Drive Medical's Viper Deluxe
Firstly, the wheel bearings of this easily undermined chair are tightly sealed, giving it a long-lasting and very durable design. It has wheels and casters that can thrive on practically any surface and one of the majority of reasons why customers love this wheelchair. It is strongly recommended to those patients that tend to spend a lot of time on their wheelchairs outdoors. The chair also has a dual axle format.
With the dual axle feature, customers are able to improve their efficiency in movement by simply raising the seat level to a Hemi level with ease. This also increases comfort while moving with the chair. The chair also a unique frame design that allows users to attach custom backs and accessories to the wheelchair. Patients of different sizes and shapes are able to use this wheelchair because it comes with a variety of seat sizes. The seat sizes are 12, 14, 16, 18, and 20 inches. Obviously, this wide range of seat size selection is one of the most praised features of this wheelchair.
Pros
It has a variety of seat size selection, up to 5 seat sizes that can accommodate a wide range of customers. This can come in very handy in hospitals and clinics that treat a wide range of patients.
Its firm wheel provides support and easy mobility on various surfaces, both outdoors and indoors, particularly outdoors. It also has features Iike the dual axle for comfort while moving with the chair.
Cons
The chair weighs around 32 pounds, depending on the kind of seat size that comes along with it and it is one of the heaviest lightweight wheelchairs in the market.
Opinion
I think we can all agree that the weight of the wheelchair is just a minor setback compare to its advantages. It is good for practically all surfaces especially outdoors and it provides additional comfort when using it because of its dual axle system. Not to mention is not as expensive as the other two listed here. Buying one of these sweet rides is definitely a good idea.
See Also: BEST ELECTRIC WHEELCHAIR
See Also: BEST HANDHELD VACUUM CLEANERS
Best Lightweight Wheelchair Buying Guide
For your lightweight wheelchairs you should consider the following factors before attempting to buy one;
The size of the wheelchair chair should not overlook. Since some of these lightweight wheelchairs comes in various seat sizes, knowing the right size before buying one for yourself should be a major concern.
The weight of the wheelchair should also matter. In this article the 33-pound deluxe wheelchair had the heaviest weight but yet it is still one of the best lightweight wheelchairs in the market today.
The price is also a major factor. Ensure you get a good quality product for your money and not underhanded goods.
The durability of the wheelchair is also a major factor to consider. Ensure your wheelchair is made of only the best high-quality materials that make it stand out in terms of durability.